We've produced commercial wheelchair vans for more than 20 years and work with Ford, Mercedes-Benz, and Ram to deliver accessible Transits, Sprinters and ProMasters anywhere in the United States. We are recognized by Ford as its #1 Mobility Pool, Mercedes-Benz as MasterSOLUTIONS™ Upfitter and Ram as Q-Pro supplier.  Our Fleet Sales Team can process multiple vehicle orders for national fleet companies of any size.
Wheelchaired passengers use the rear lift, walk-on passengers enter from the curb. Allows for more conventional seating towards the front of the vehicle.
When traffic and/or loading space are concerns, side entry lift is desirable. Side entry lifts are also used when cots or stretchers are needed.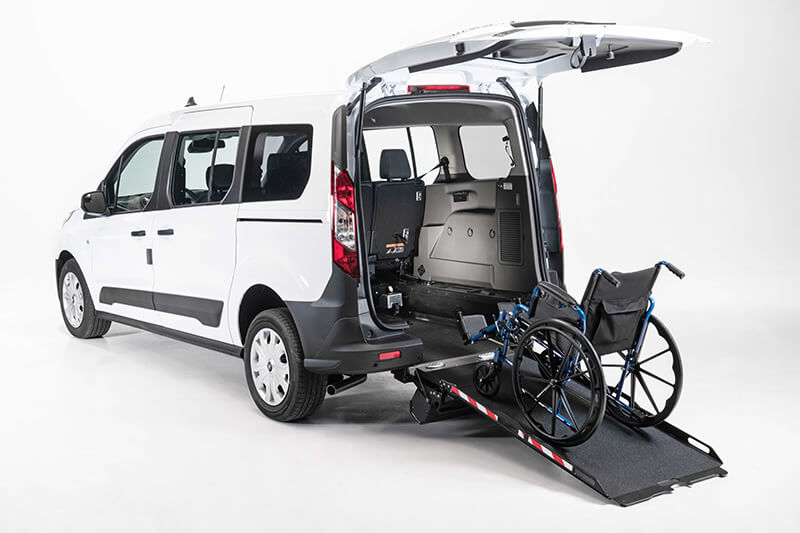 A variety of versatile and efficient ramp systems offering a quiet, maintenance-free alternative to power lifts. The perfect solution for wheelchair transportation and equipment hauling needs.
A state-of-the-art, ADA compliant system that allows both wheelchair and ambulatory access from the same curb-side opening. With a touch of a button the ambulatory entrance has wheelchair access, too.
Need a Quote?
Contact our dedicated Customer Support Team to find the right solution for your budget and fleet requirements.