Driverge converts more Ford Transits (150s, 250s and 350s) than any other type of make and model, and for 16 consecutive years, we have been Ford's #1 mobility pool. As a Ford bailment pool, Driverge routinely has 400+ Transits we can upfit and make available to you through local Ford dealers.
Ford offers its Transits in a variety of roof heights and wheelbase lengths which allows us to tailor the cabin size to fit your specific needs. The Transit is highly configurable and extremely versatile for tradespeople, non-emergency medical transportation and people moving.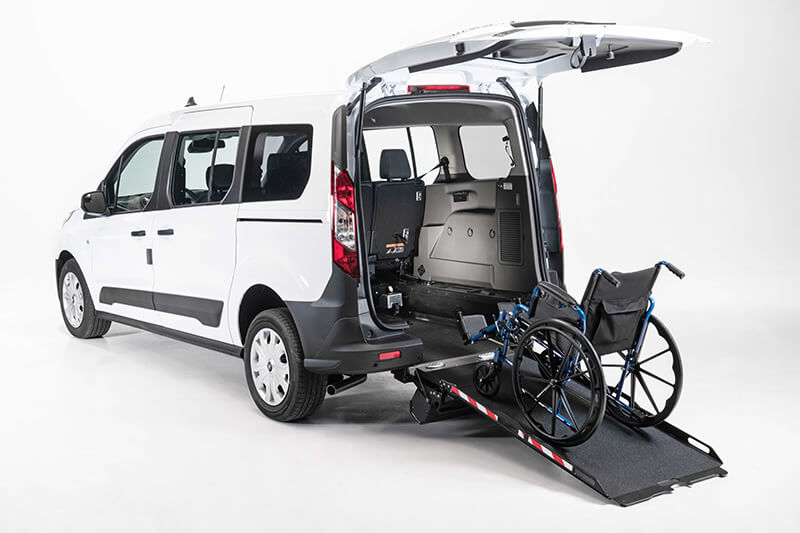 Our Ford Transit Connect ADA accessible minivan with FlexFlat ramp technology provides for one wheelchair and five passengers. The FlexFlat design creates a usable deck when not in use like a standard minivan, making it available for luggage, boxes, cargo, golf clubs and more.
Driverge installs both rear and side entry wheelchair lifts on the Ford Transit, with lift capacities up to 1000 lbs. These wheelchair lifts designed by leading industry manufacturers and meets or exceed all state and federal requirements.
Our Ford Impression Series transporter delivers comfort and safety combined with cost-efficient, stylish upgrades. It's the perfect revenue-generating people mover for all types of group events, hotel guest transportation, guided tours, and much more.
Driverge offers economical, smartly-appointed people transporters built on the Ford Transit 150, 350 and 350 HD chassis. Flexible seating configurations can accommodate up to 15 passengers including the driver.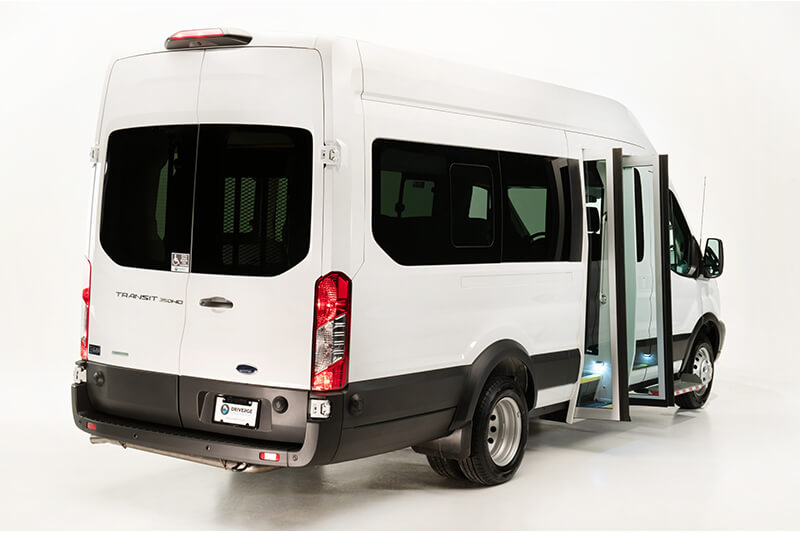 The Driverge Ford Transit Minibus provides companies with the ability to transport up to 15 passengers (including driver). Easier to operate and less expensive to maintain than a traditional cutaway, it's perfect for corporate shuttles, community centers, group outings, charter & tour operators, and any other business that moves people.
Explore our range of Ford E-Transit conversions designed to meet your unique needs. From people movers to cargo vans, we've got your covered.
The Driverge Ford Transit Crew Van is the vehicle of choice for businesses that normally transport teams of 3-5 people and need cargo storage for gear, equipment or supplies. Industries that use crew vans include construction and supporting trades (i.e. electricians, plumbers, painters, etc.), oil and gas drilling companies, cable and utility companies, and any company that transports teams of people to job sites.
Built on the popular Ford Transit, we add seating and an office area in the second row with a movable, flip-top work table that slides out from between the seats. Combined with innovative SmartFloor technology, the mobile office van also allows for the quick removal of seats, adding unlimited flexibility to its many potential uses.
Driverge upfits transport vans that are trusted by police departments, jails, and leading law enforcement agencies across the country to safely move inmates and detainees. We've also provided detainee transport vans for the U.S. Border Patrol.
Driverge's Food Service & Delivery van provides businesses such as caterers, non-profits, and distributors with a unique option for transporting both hot and cold food. With variable seating configurations, this vehicle can also transport support staff with your prepared meals.
Driverge can customize conversion vans based on your individual needs. We work with a multitude of industries to manufacture customized mobility vans, people transporters, and work & crew vans tailored to a specific purpose. Get in touch to let us know how we can work with you.